Curated Wine Experience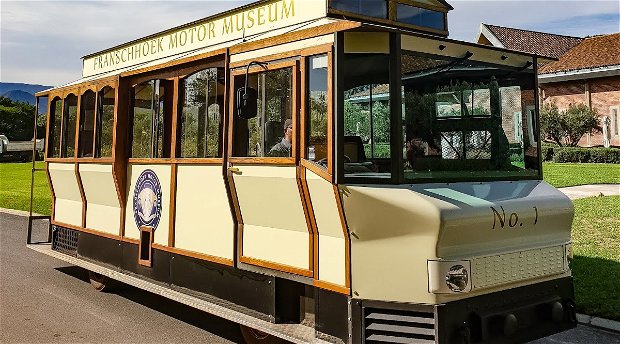 The CURATED WINE EXPERIENCE Tour is an all-inclusive Wine Tour of Franschhoek with our Tour Guide incl. Wine Making & Cellar Tour, premium tastings, pairings, 2 Course lunch with Wine as well as our new Franschhoek Motor Museum Tram experience & luxury transport from estate to estate.
Experience Franschhoek Wine Estates with our Tour Consultant. This all-inclusive package offers knowledge not only on Franschhoek but the history, facts and scientific aspects of wine making. Your Tour Consultant will share interesting stories of Franschhoek and how the village came about. During this engaging and interactive experience, guests will be guided through, and have an opportunity to experiencing making their own bottle of wine, premium tastings, lunch & pairings at 3 award-winning wine estates in Franschhoek. Here you will also learn about the local grape varieties, cultivars and the aspects of viticulture which are unique to South Africa.
A tour where you will experience the making of your very own bottle of wine including corking it and labelling it, wine & barrel cellar will be followed by a specially curated lunch at the estate restaurant followed by premium tastings & pairings of your own choice and the Franschhoek Motor Museum and tram experience.
Gallery
Itinerary
Curated Wine Experience
09:40               Depart TUK TUK Ticket office in a TUK TUK
10:00 – 11:30   Ricketybridge – Wine Blending Experience & Tasting.
11:45 – 14:00   Mont Rochelle Estate - Cellar Tour & Tasting followed by a 2 Course Curated Lunch with Wine.
13:00 – 14:00  Tram Journey – Scenic tram drive through the vineyards on Anthonij Rupert estate.
14:45 – 15:30  Tour of the Franschhoek Motor Museum.
15:30 – 15:45  Return tram drive to Terra del Capo Tasting Room.
15:45 – 17:00  L'Ormarins Cap Classique tasting OR Terra del Capo Italian Cheese & wine pairing.
17:05               Depart for return to Franschhoek Village.