Scootours CAPE TOWN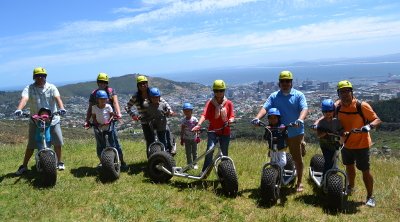 Jump on a Monster Mountain scooter and Freewheel into the city below!
Jump on a Monster Mountain Scooter and Freewheel into the city below! Scootours  offer a unique way to experience Cape Town's Table Mountain and its breathtaking views in a fun and active way.
During the 1.5 to 2 hour, you will get the opportunity the freewheel down two different off road tracks. The first track runs down the side of Signal Hill all the way into Bo Kaap. After getting picked up by our vehicle in Bo Kaap, the Experience continues as you are transported to Table Mountain for your final run down the lower slopes off this world-famous land mark!
Gallery
Itinerary
Cape Town Tour
We start at Table Mountain's Lower Parking Area just off Kloof Nek Road. This is at the Table Mountain Info Office and there is plenty of safe parking.
After guests are kitted out with their helmets and gloves they get transported to the top of Signal Hill for their 1st Downhill Run. The trip is not only fun but also informative as the guides will keep you entertained with info about the area as well.
We get picked up in Bo Kaap by the driver and then we head for the main run down Table Mountain from Dead Man's tree all the way down to Deer Park where the driver will pick us up again and bring us back to the starting point at Lower Table Mountain.
Scooters are non motorised making this eco friendly. These Swiss designed scooters are used in the Alps during the summer season on the ski slopes when the snow is gone. All trips are guided by professional qualified guides.